News & New Acquisitions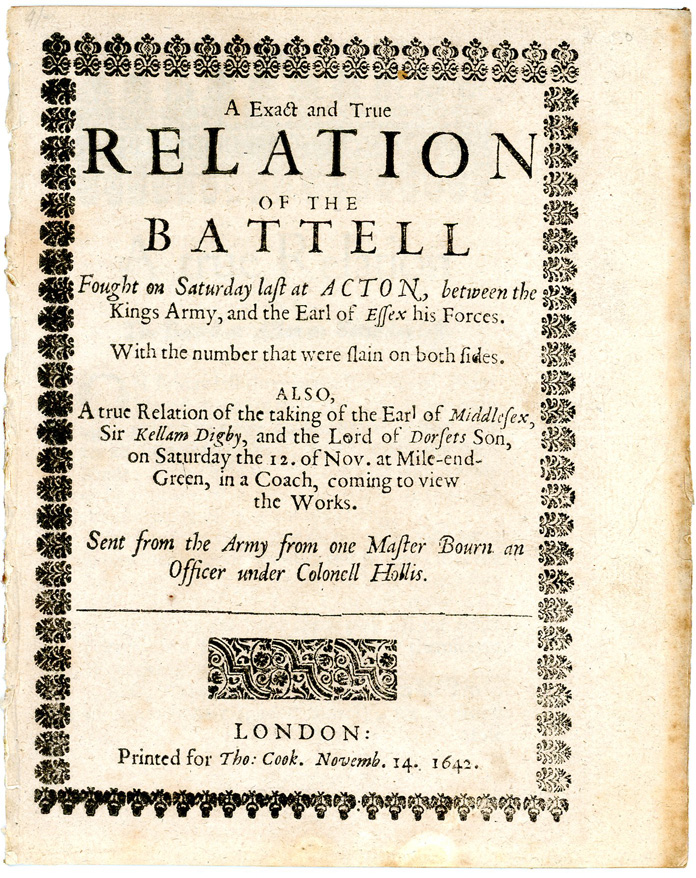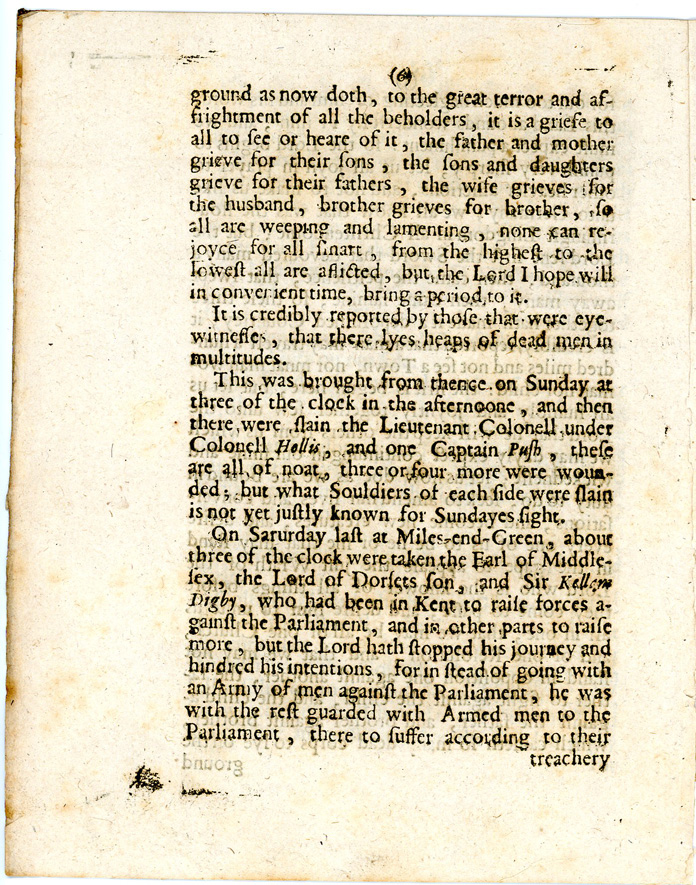 English Civil War. 1642 Battle of Turnham Green.
Remarkable eye-witness account of the battle by one Master Bourn, an officer under the Parliamentarian Colonel Hollis, published the day after the battle.
An Exact and True Relation of the Battell fought on Saturday last at Acton between the King's army and the Earl of Essex his Forces. With the number that were slain on both sides. Also a true relation of the taking of the Earl of Middlesex Sir Calum Digby and the Lord of Dorset's son on Saturday the 12th of November at Mile End Green, in a Coach coming to view the Works. Sent from the Army from one Master Bourn an officer under Colonell Hollis.
LONDON Printed for Tho: Cook. Novemb. 14. 1642.

On Friday last there was a rumour of Peace blazed abroad in the city which was only upon policie to come on unawares,which we are all subject to believe, which causes our own Ruine, for we believe that Rumour which made us be unprovided of Men and Arms, so they have the advantage of us at the beginning. On Saturday they came on our men who were unprovided both of powder and bullets but the Lord that is the chief fighter I hope on our side will still defend us, for Colonelll Hollis with his regiment did hold them play till the other Forces came in which did behave themselves very courageously. Also Captain Manwaring did with his troop of Horse behave himself bravely for he stood close to it not being daunted at anything for the Lord was their Incourager and brought them on and brought them off. It was almost 4 of the clock in the afternoon before the Earl of Essex came to them with his forces but when he came, the Lord fought with them for they were wonderful courageous in the battel for they flew on like Tigers both with Musquet, Pike and Sword till they could see no longer; therefore they were forced to leave off for that night. There were about 700 Cavalier slain with the loss of about 150 on our side. On Sunday morning about 6 of the clock at break of day they began to fight fiercely on both sides but our Men came on courageously; the noble and valorous Earl of Essex did play this part very bravely, encouraging his soldiers to be valorous knowing whose cause it is, for God, King and Country. Colonell Hollis hath stood very bravely to it both on Saturday and Sunday with an undaunted spirit. Colonell Hampden has likewise been very forward in this Battel, the Lord be praised that he continues so constant, and true hearted for the defence of the Gospell, they going out with full resolution to live and die in the defence of it, for which we are all bound to pray to the Lord to continue amongst us, but the Lord is angry for our too much neglecting of him and his word, This Land abounds wonderfully in sinne, and we must expect a punishment; so the Lord begins to punish very sharply; let us all join in prayer to other heavier afflictions, and not to make us like unto Germany we all know that was the flourishingst Kingdom in all Christendom; but the Lord sent first the Sword that devoured many a thousand, then came the pestilence that swept away many, then came famine so that these 3 together have make it a depollished Countrey; It is credibly reported that a man may travel 100 miles and not see a town, nor a man, woman or child…. It is credibly reported by those that were eyewitnesses that there lyes heaps of dead men in multitudes. This was brought from thence on Sunday at three of the clock in the afternoon, and then there were slain the Lieutenant Colonell under Colonell Hollis and one Captain Pugh, these are all of noat, three or four more were wounded, but what Souldiers of each side was slain is not yet justly known for Sundays fight. On Saturday last at Miles-End-Green, about 3 of the clock were taken the Earl of Middlesex, the Lord of Dorset's son and Sir Kellem (Kenelm) Digby who had been in Kent to raise forces against the Parliament, and in other parts to raise more, but the Lord hath stopped his journey and hindered his intentions,for instead of going with an Army of men against the Parliament he was with the rest guarded with armed men to the Parliament, there to suffer according to their treachery, a just reward to such Delinquents, they were committed to custody till they could be examined. On Saturday night last at 11 of the clock two Captains went post into Essex to raise men which was quickly done, for there were 500 came into town on Sunday morning about 9 of the clock with undaunted resolution to March away with the Noble Earl of Warwick, which is Lord Generall of these forces for the Defence of the King and Parliament, and for the Defence of the true Protestant Religion, vowing to live and die with the two Noble and Courageous Generalls which are the two Loadestones of the Kingdom. On Saturday the 12th of November, Prince Robert using the advantage of the Mist, which was that morning extremely thick, brought up his forces to Brainford when he was most violently opposed by my Lord Roberts regiment on the Bridge, who beat them off and with great resolution maintained the Bridge till they had spent all their powder and shot, at which time it pleased God that Colonell Hampden and Colonell Hollis regiments came in who very manfully set upon them and slew many of them, with the losse of a very few on our side. On Sunday the 13th of November no feat of War was done, onely there came up two small Ships to Branford, who hearing the Cavaliers were there, shot at them, who were answered again by the Cavaliers. This day also the city sent 89 Carts and Wagons laden with all manner of provision, unto the Army. There were taken prisoners also two of His Majesty's Guard whereof one was shot in the leg.
---