News & New Acquisitions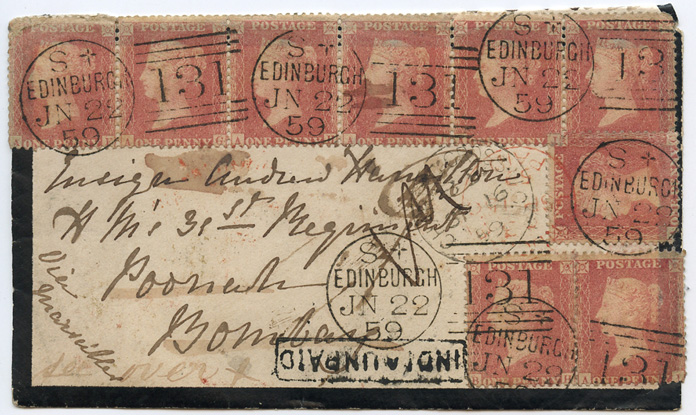 Rare Edinburgh namestamp on 1859 cover to India
Great Britain/India. 1859 an envelope addressed to "Ensign Andrew Hamilton, H.M.'s 31st Regiment, Poonah, Bombay," bearing on reverse the boxed "JOCKS LODGE" local h/s, and bearing nine examples of the 1857 1d rose-red issue, each being tied by the Edinburgh "131" duplex dated for JN 22 59 and sent via Marseilles, with an arrival mark on reverse for AU 4 59.
Also on reverse is an m/s instruction "Proceeded to England on board the "Enieu," together with "Care of Messrs Casell & Co, Army Agents, Charing Cross, London" whence the envelope was returned to England with boxed "India unpaid" h/s and addressed to Kelvedon, Essex, with an arrival mark dated for SP 17 59. A rare and most attractive cover. Price £425
The boxed type D1 "Jocks Lodge" Edinburgh "local" handstamp is as far as we know unrecorded to date.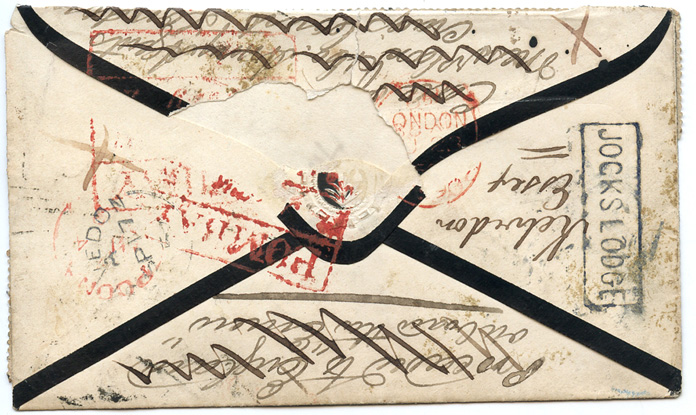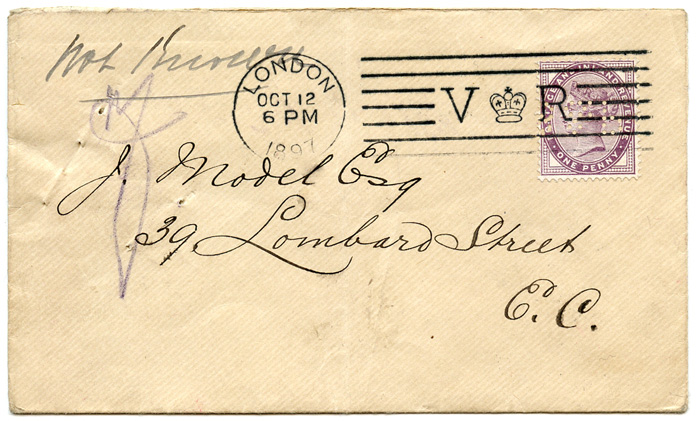 Rare 1897 Bickerdike machine "V Crown R" cancel on cover
1897 Bickerdike Machine Cancellation. An envelope bearing a perfined 1d lilac issue (S.P. = Spiers & Pond) addressed within London, being tied by a superb strike of the "V Crown R" machine cancellation from the larger "VR" die 2 with serifs, dated for OCT 12, 6PM, 1897. The addressee was "not found" and the envelope returned to sender. A rare and most attractive cover. Price £500.
---