News & New Acquisitions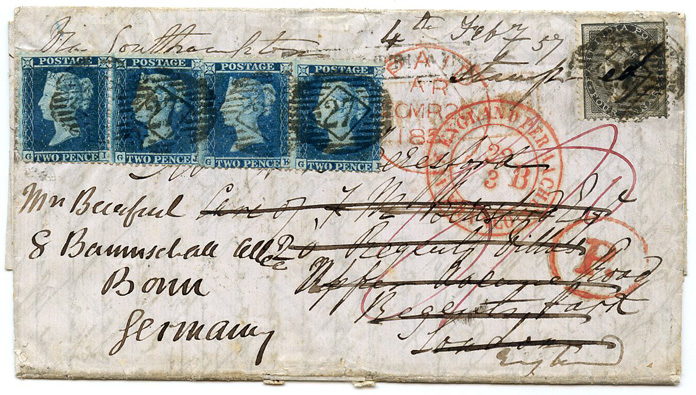 1857 letter foretelling the Indian Mutiny
A letter from Barrackpore, INDIA dated 4 February 1857 franked with a 4 annas slate adhesive arriving LONDON 20 March 1857. Redirected and forwarded to Bonn, GERMANY with 8d (4 x 2d blues) prepaying the further postage; the German "Aus England per Aachen Franco" indicates transit was via Belgium prepaid.
The contents of this letter, written by an officer's wife, relate in a chatty way local news and include some interesting observations foretelling the unrest of the local Sepoy soldiers which was to lead to the Indian Mutiny only weeks later.
The extract reads:- "A new cartridge paper of a different colour has been given to the Sepoys, who imagine (cow) grease has been employed in it's preparation, and that this is a prelude to the Government destroying their caste and converting them to Christianity. The brigadier and brigade major sent at lOpm to Major Matthews; disaffection seems to be the cause..... the Sepoys' conscience troubling them, they fear an English Regiment will be set upon them..." This was the precise cause of the Indian Mutiny which broke out in May 1857 being voiced here as early as February! Price £2750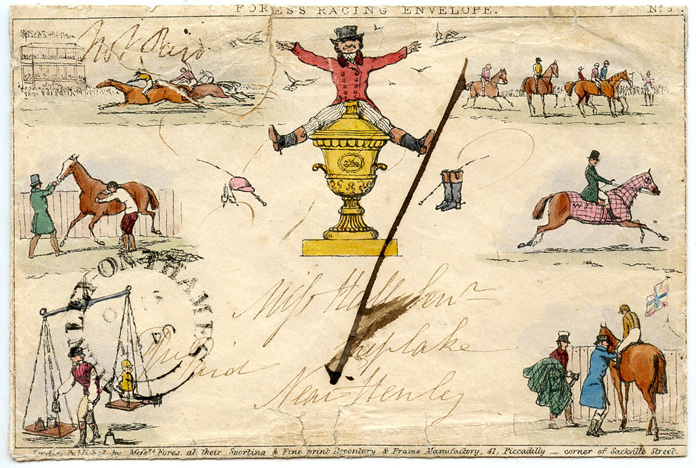 Rare Fores's Racing Envelope, Mulready caricature
1840 a used example of "Fores's Racing Envelope No 5" addressed to Shiplake and inscribed "Pre-Paid" but showing "Not Paid" in a different hand and rate charge "1" in black manuscript and bearing on front the Henkey on Thames datestamp for OC 15 1840. Some tears, though a very rare envelope indeed in used condition, only 2 handcoloured examples known. £5000.
---